It said the best stone for honesty, that helps to reveal the the inner truth, and encourages the desire for knowledge and understanding. A sparkly gold and royal blue natural large designed shape Lapis Lazuri necklace,gemstone pendant with Pyrite sparkles in it.Hand cut and hand polished on diamond wheels to a bright shine, set with sterling silver 21 gauge triple lined round and half round wire wrapping and with a silver plated 20" x 1.5 mm snake chain necklace. This historic crystal is one of the oldest specimen used for jewelry. Makes a very eye catching piece of jewelry for every occasion, the gold like dots in it attracts many attention. The necklace supplied with the pendant is only a plated silver, because we assume you have your favorite chain, but If you wish to upgrade it to sterling silver, Italian made .925 snake chain 1.05 mm x 18", 20", 24" sizes also available at wholesale price. Please contact for adjustment.

stone size: 48.1 x 20.8 x 6.8 mm 61.30 ct.
overall pendant height: 61.3 mm
Free shipping to US and Canada.
For International order, please contact for rates and options.

Lapis Lazuli was among the most highly prized tribute paid to Egypt, obtained from the oldest mines in the world, worked from around 4000 B.C. and still in use today. Referenced in the Old Testament as sapphire (unknown in that part of the ancient world), Lapis Lazuli is most likely the fifth stone in the original breastplate of the High Priest, as well as those of later times.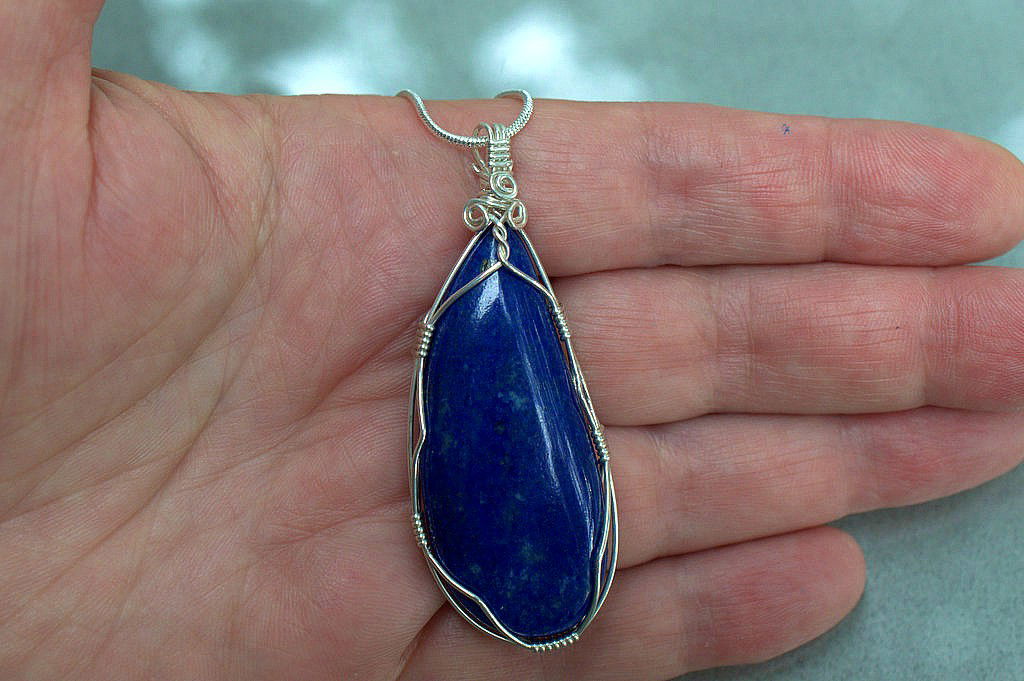 Stone for honesty Lapis Lazuri necklace