Since ancient history, some one always comes up with a theory, how minerals effecting our life. The stone for telephatycs is the Labradorite crystal. indeed, when you look into this gemstone, it has a mesmerizing light reflection, what caused by the main element Feldspar in it, and one might read it as hidden message from out of space, or a deep subconscious connection.
For any reason you looking for Labradorite, we offer you this medium size piece, with cool greenish and gold hue. Cut to teardrop shape, polished on diamond lapidary wheels, drilled, and set with sterling silver 21 gauge round jewelry wire created hanger, and with a silver plated 20" x 1.5 mm snake chain necklace.
The raw stone is a natural Canadian mineral, from the east coast. No treatment, chemicals, or harmful material used to create this pendant, it safe to wear.
We consistently fill our stock with raw Labradorite mineral, custom shape and size cut available.
stone size: 28.5 x 17.5 x 5.3 mm 21.30 ct.overall pendant size including setting: 39.1 mm
Free shipping to Canada and USA.
US bond shipping by USPS via chit-chat express, fast and tracked, 4-5 business days delivery time in most destinations.
International shipping by estimated first class rates, please see it here.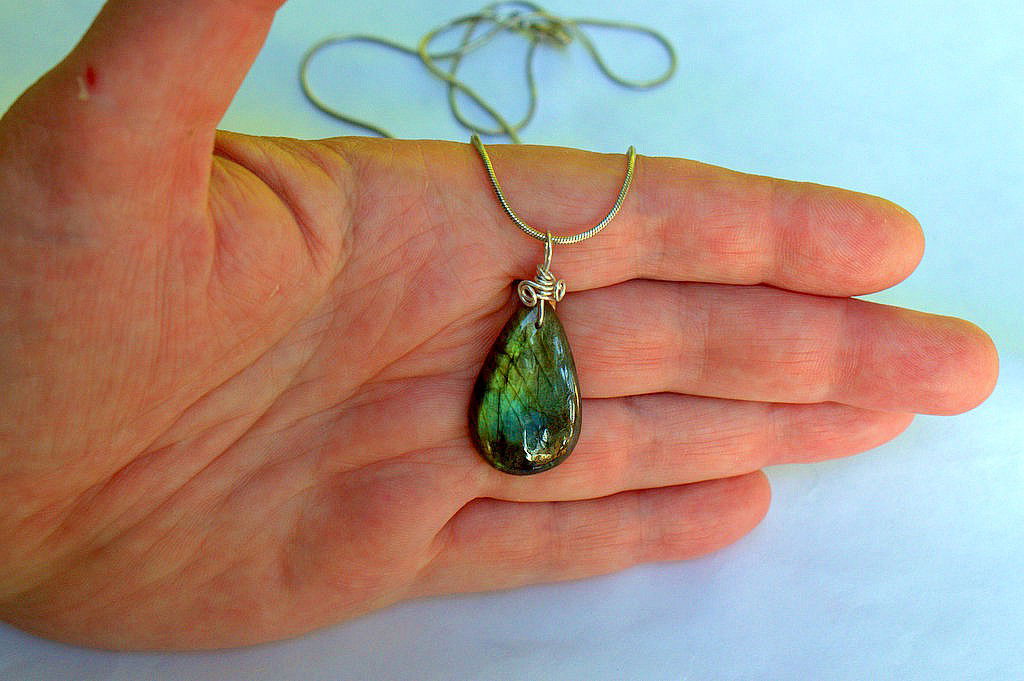 Stone for telephatycs, Labradorite gemstone necklace