An interesting sunstone teardrop pendant, with fragmented sparkly light reflecting crystals. It'a a so called matrix stone, when a mass of rock deposit breaks up in the earth crust by volcanic activities, and carried away by lava flow or slides, distributed into other minerals. Over millions of years, these particles, melting together by heat and pressure with the new host rock. This specimen is hosted by quartz, and it depend on the angle of the light, the orange red pieces reflecting light, looks like sun rays.
Metaphysically it's a stone that carries the energy of the center of the universe. These energies just like the sun itself, directing the essence of life. Sunstone means leadership, it gives the confidence to take control and guide others. In the meantime, just like the summer, brings joy and happiness.
The stone cut to teardrop shape, polished on diamond wheels to a glassy smoothness and bright shine. The final polish is 50.000 grit, so smooth even water repels on its surface. Set with sterling silver 21 gauge triple lined round and half round jewelry wire wrap setting, a modern and trendy style method, focuses to show the stone in full, yet holds it firmly and secure in place. A silver plated 20" x 1.5 mm snake chain necklace necklace is included with the purchase of the pendant.
stone size: 32.3 x 24.1 x 6.8 mm 41.75 ct.
A one time shipping charge added at checkout. To Canada $4.40 USA $6.25 Rest of the world $20.35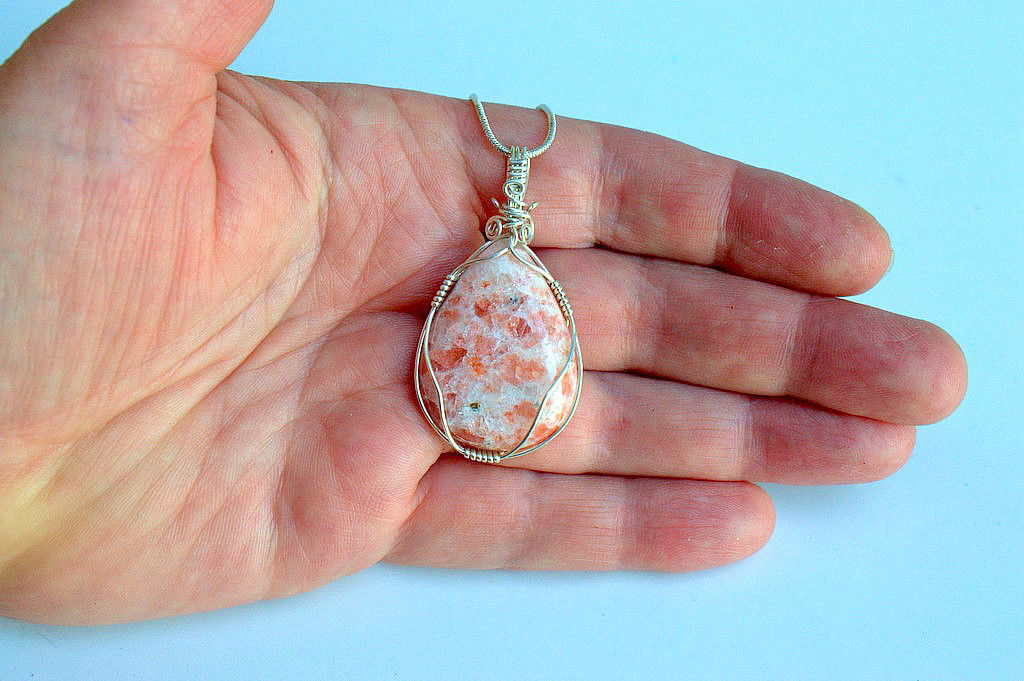 Sunstone teardrop pendant, handmade jewelry