This teardrop shape pendant is one of the most known and admired jewelry stone for both man and woman. Tiger eye necklace supposed to attract good fortune to the wearer, and can heal anxious and unstable state of beings. We cut this pendant from a raw mineral bu designing the best pattern into it. Polished on diamond wheels with an eight step method, by doubling the grind smoothness up to 50.000 grit. The setting is a modern style .925 sterling silver triple lined round and half round jewelry wire wrapping, focuses more to the stone than the setting. The hardness and the folding hold the stone solid, never will get loose. The large size teardrop shape pendant comes with a silver plated 20" x 1.5 mm snake chain necklace.
stone size 34.2 x 23.7 x 6.1 mm 44.75 ct.

.925 sterling silver Italian made smooth snake chain necklaces also available in 1.05 mm thickness and 18", 20", 24" lengths. If you wish to upgrade to solid silver please contact us to change listing details. Wholesale priced CDN $ 9.80, $11.50, $13.60 necklaces.
All of our semi precious gemstones are 100% natural, we never treat, dye or alter our stones in any ways.
We have over a thousand pounds, mostly self collected jewelry quality raw crystals and minerals. If you looking for a specific stone, drop us a line, we might have it. Custom shape and size cutting with preferred setting.
Free shipping to US and Canada. For International order, please contact for rates and options.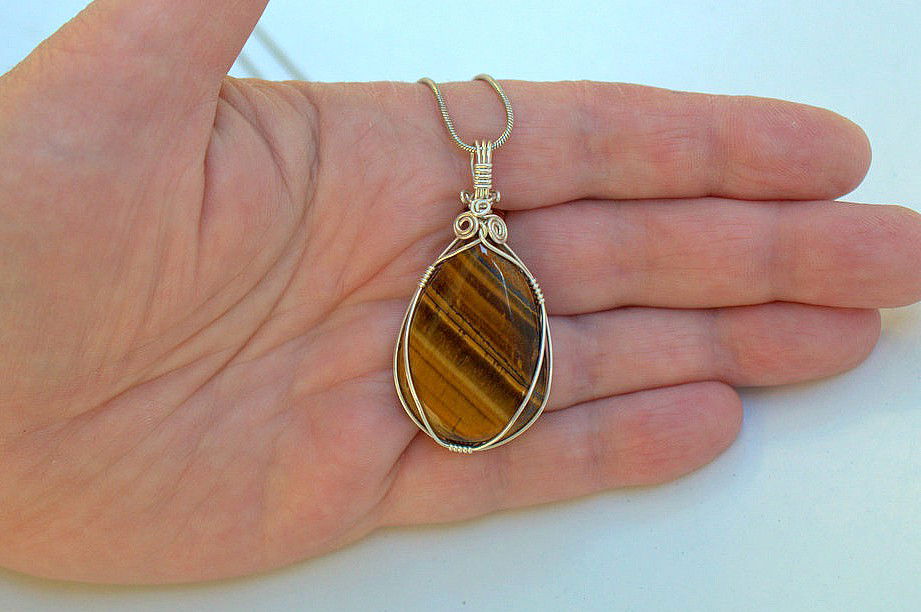 teardrop shape pendant Tger eye necklace