Natural Utah origin Tiffany stone necklace, quite a large size designed shaped gemstone pendant with .925 sterling silver 21 gauge square and half round jewelry wire wrap setting. The optional 18", 20", 24", length necklace is Italian made smooth sterling silver snake chain 1.05 mm thickness.
Tiffany stone is a gemstone, find only in one location, in Utah USA. A very desirable popular jewelry crystal, also known by the name of purple passion. Composed by fine grained violet fluorite, bertrandite, quartz, chalcedony and opal. Sometimes called as opalized fluorite. The hardness of the stone, is somewhere on the middle on the sale 1 to 10.
The raw stone is direct by the quarry, cut to slabs in our shop, ( see the slab here, what this pendant is cut from ). Designed to shape by following the nicest pattern, polished on diamond wheels up to 50.000 grit glassy smoothness and a brilliant shine. The setting is a simple modern style method, focuses to show the best of the stone, not too much of the silver, yet holds it firm in place. This handmade jewelry makes a one of a kind present idea to girls and women.
Tiffany stone is a highly regarded crystal in the spiritual and metaphysical world. Best known as the stone what help to develop and enhance psychic abilities, and very useful for boosting sex life.
stone size: 38.1 x 22.7 x 7.6 mm 51.75 ct.
A one time shipping charge added at checkout. To Canada $4.40 USA $6.25 Rest of the world $20.35
Raw Tiffany stone coming in to our shop time to time, we can cut and set custom size and shape for your request. We also have a large collection of raw jewelry quality crystals and minerals ready to cut to shape. If you looking for a specific stone, don't hesitate to contact us, we might have your stone.
Please make a note at checkout for the preferred necklace length.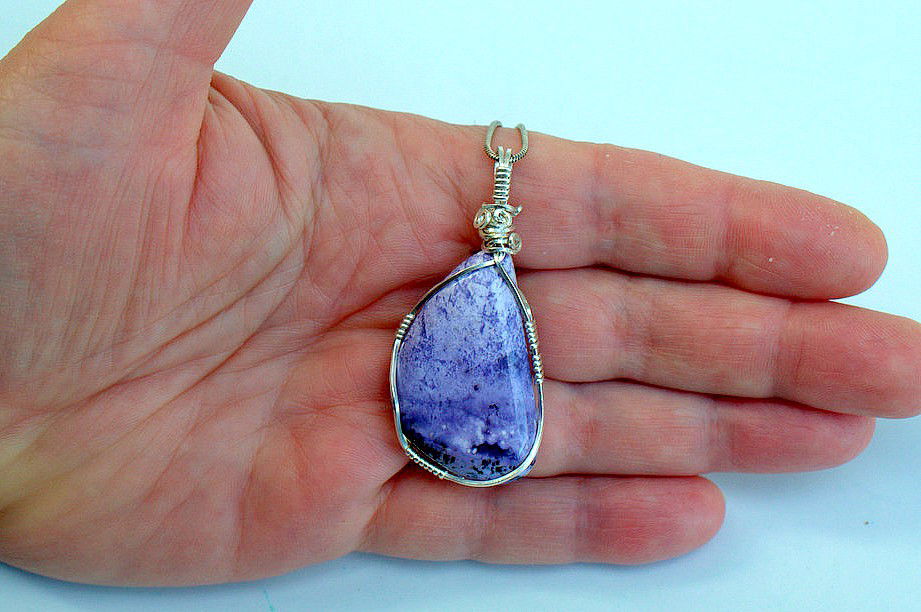 Tiffany stone necklace, handmade jewelry