Natural white alabaster totem stone carving, small statue. Carved from one solid piece of Italian translucent alabaster. This native inspiration carving has nothing to do with any tribal culture, it's just an idea by me. Hand carved stone, using only hand tools the traditional way, and for the polishing, standard water base sand papers up to 2000 grit, for a silky smooth and bright shiny finish. Sealed and buffed with natural non toxic bee wax. Pinned and stone epoxy glued to an also polished natural round shape white marble base.
Alabaster stone not need much maintenance, just a regular dust off, in case the shine fades by time, a few drops of olive oil and a soft cloth buff makes it new looking again.
The small sculpture is brand new never been displayed, signed and dated by Saga.
Alabaster and soapstone carving stone always on stock. Your custom carving request is welcome, no deposit or payment upfront needed. Daily progress pictures sent by email.
I do not die color, or alter the stones in any ways, all stones are 100% natural, and no chemicals or harmful materials used during the carving, polishing process.
9.5" x 2.75" x 2.75"
24 x 7 x 7 cm.
0.928 kg.
Free chipping to Canada and USA. International shipping available with discounted USPS rates.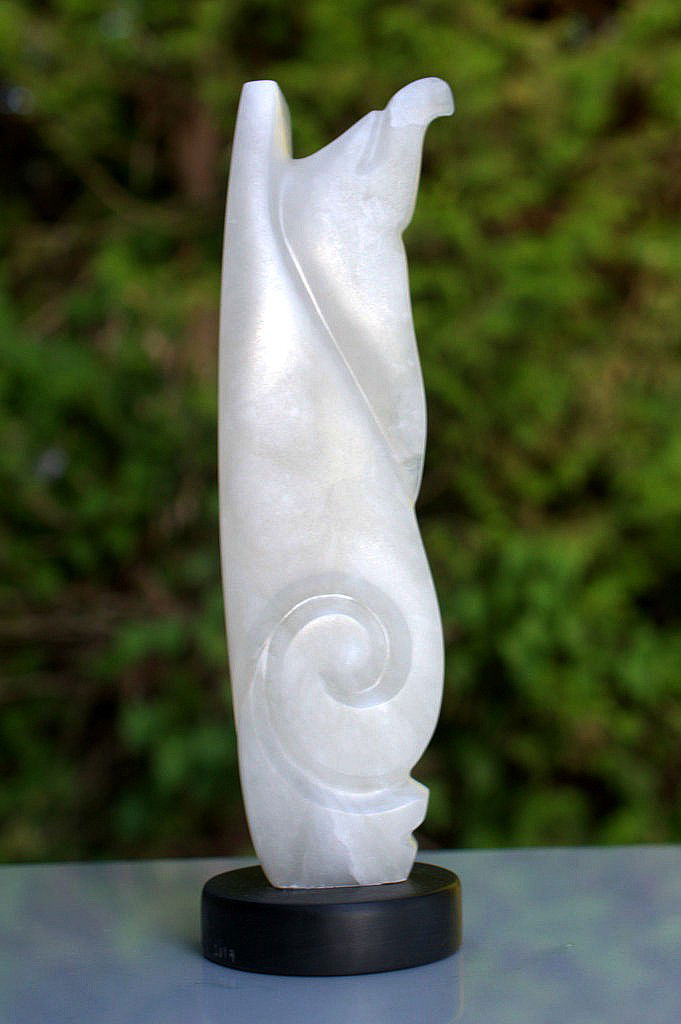 Totem stone carving, Alabaster small statue