This hand polished natural translucent purple crystal is combination of Amethyst and white or milky quartz.The white quartz usually makes a V shape banded pattern what goes through the stone like waves. Known as a powerful healing and protection stone. It said spiritually, can create a protective bubble around the wearer, and can ward off negative energy, and psychic attacks. Also known as the sobriety stone, helps to beat addictions.
But of course if you're looking for a gemstone for its color, Chevron Amethyst is a good choice, the purple represent royalty, and goes with many shades of dresses.
This gemstone necklace cut from a natural stone boulder, what mined in Morocco. Cut and designed to show the nicest pattern. Set with sterling silver square and half round modern style jewelry wire wrapping, what focuses more to the stone than the setting. The stone polished on diamond wheels up to 50.000 grit shine and glassy smoothness. A silver plated 20" x 1.5 mm snake chain necklace included with the pendant.
stone size: 41.1 x 22.9 x 6.9 mm 51.60 ct.
A limited quantity of raw Chevron Amathyst gemstone still available for custom size and shape cutting.
We have a large collection of jewelry quality crystals and minerals from all over the world, if you looking for a specific gemstone, please don't hesitate to contact us, we might have your stone, what we can cut and polish to a preferred shape with your choice of setting and necklace.
Free shipping to Canada and USA. International shipping also available, please check estimated USPS rates here.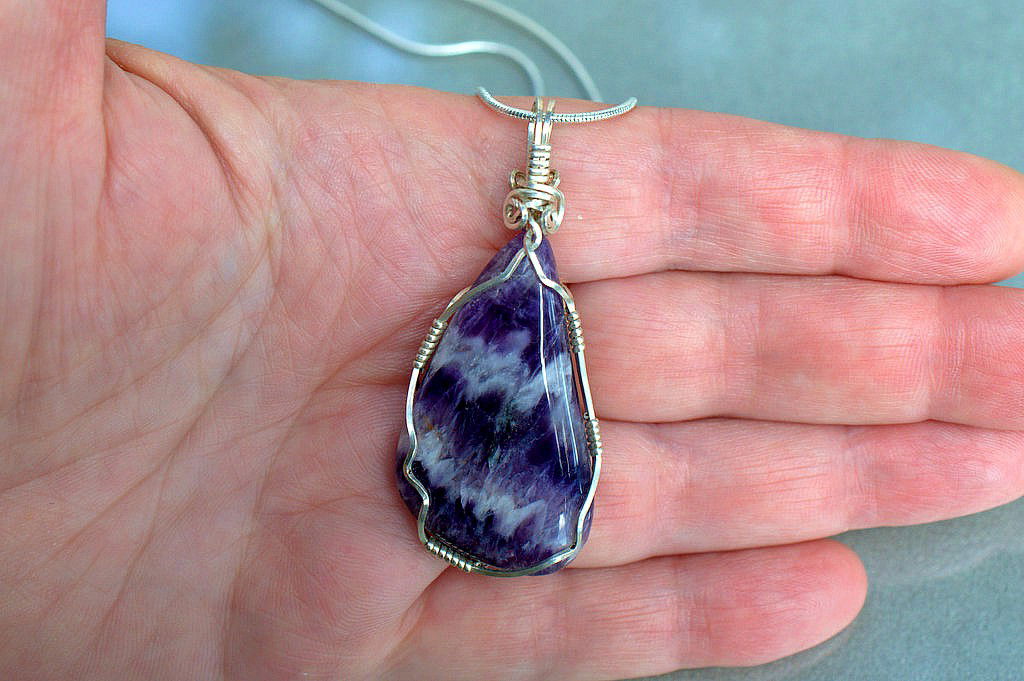 Translucent purple crystal, Chevron Amethyst necklace