This medium size tree stone carving is another symbol inspired piece. The tree of life has been expressed almost all cultures, with the same meaning, but a little different characteristics. I carved it from natural Brazilian mined raw soapstone. Deep green color with some brown clouds on one side and deeper almost black flakes and spots in it. hand carved with basic hand tools such as files and rasps, polished with standard water base sand papers to a silky smooth finish, sealed and buffed with natural non toxic bee wax. The soapstone sculpture pinned and stone epoxy glued on a round shape beige color limestone base, what's polished as well. Signed and dated on base.
I can personalize it, by adding nae or short message by carving or engraving, whatever fits on the base for free of charge.
Soapstone is a relatively soft metamorphic stone, once displayed picks up the room temperature fast and keeps it for a long time, also attracts tiny dust particles from the air, what can fade the shine by time. To keep the sculpture shiny and new looking, a few drops of olive oil and a soft cloth buff advised every other months.
Raw soapstone and alabaster carving stone always on stock, custom request is welcome, usually done in a week time. no deposit or pre-payment required.
9" x 5" x 2.75"
22.5 x 12.5 x 7 cm.
1.645 kg.
Free fast shipping to Canada and USA. International shipping available, please see rates here.
An alternate cost effective shipping method might be also available with ASENDIA, please contact us with destination info to get quote. Not all countries supported.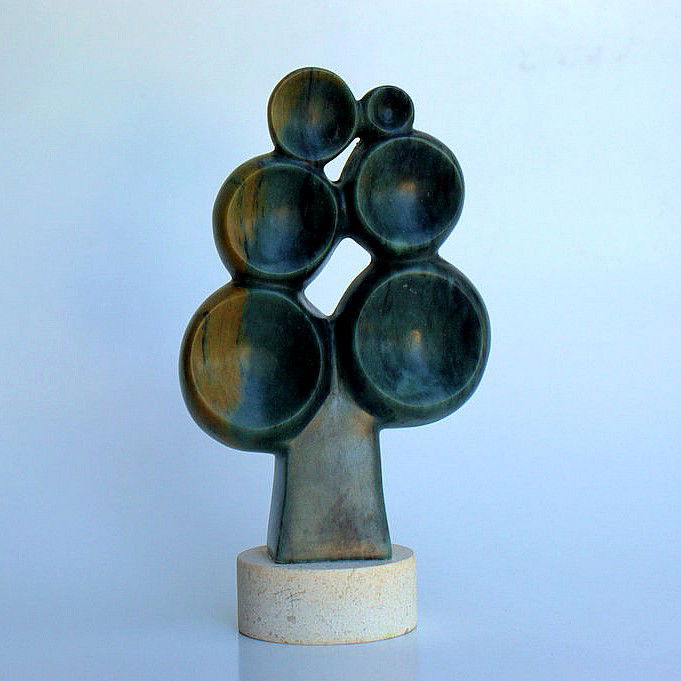 Tree stone carving, soapstone sculpture