Natural Oregon state stone.A nice size free form or triangle shape Jasper. Brown Biggs Jasper pendant with it's unique and beautiful pattern The stone is polished on both sides with high domed face and flat back set in sterling silver 21 gauge round and half round wire wrapping and comes with a silver plated 20" x 1.5 mm snake chain necklace

stone size 32.6 x 30.3 x 6 mm 43.75 ct.

Brown Jasper is an opaque, microcrystalline variety of Quartz with large, grainy crystals rather than the fibrous layers of Chalcedony or Agate. Jasper strengthens one's connection to the Earth and the spiritual wisdom and sacredness of life that exists in nature.
Free shipping to US and Canada. For International order, please contact, or check rates at top right highlighted shipping info button.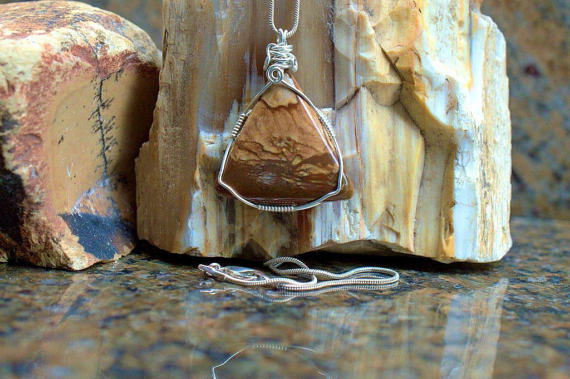 Triangle shape Jasper mineral pendant