Dallasite Jasper is truly a unique mineral, fund only one place, on Vancouver island's seashores. Composed by underwater volcanic eruption, when lava cooled rapidly by the cold ocean, and the white part of quartz, basically frozen into the host black basalt. The name Dallasite deriving by the place where first discovered, a very popular beach at the south point of Victoria, British Columbia, Dallas road. Since the time of identification, many other places on the island has great finds of this specimen, usually near by water. Once the raw stone cut, reveals its no two look-alike pattern, what most of the time resembles an abstract like image.
This pendant, polished on lapidary diamond wheels up to 50.000 grit smoothness and brilliant shine, drilled with 1 mm hole, and set with sterling silver 21 gauge jewelry wire created hanger. A silver plated 20" x 1.5 mm snake chain, or if you have base metal allergies, a 2 mm black necklace supplied with the pendant.
We collect our raw Dallasite stones our self, always have backup for custom shape and size cutting. Sorry we don't sell raw stone, we use it all.
stone size: 31.3 x 23.3 x 6.2 mm 40.80 ct.
overall pendant height: 44.1 mm
Free shipping to Canada and USA.
Fast US bond shipping by USPS via chit-chat express, daily. No custom delays or tariffs involved, most cases 4-5 business days delivery time. Tracking provided by email within 24 hours of confirmed payment.
International shipping also by USPS, or by ASENDIA if destination available, a one time charge of $9.25 (CAD) added at checkout.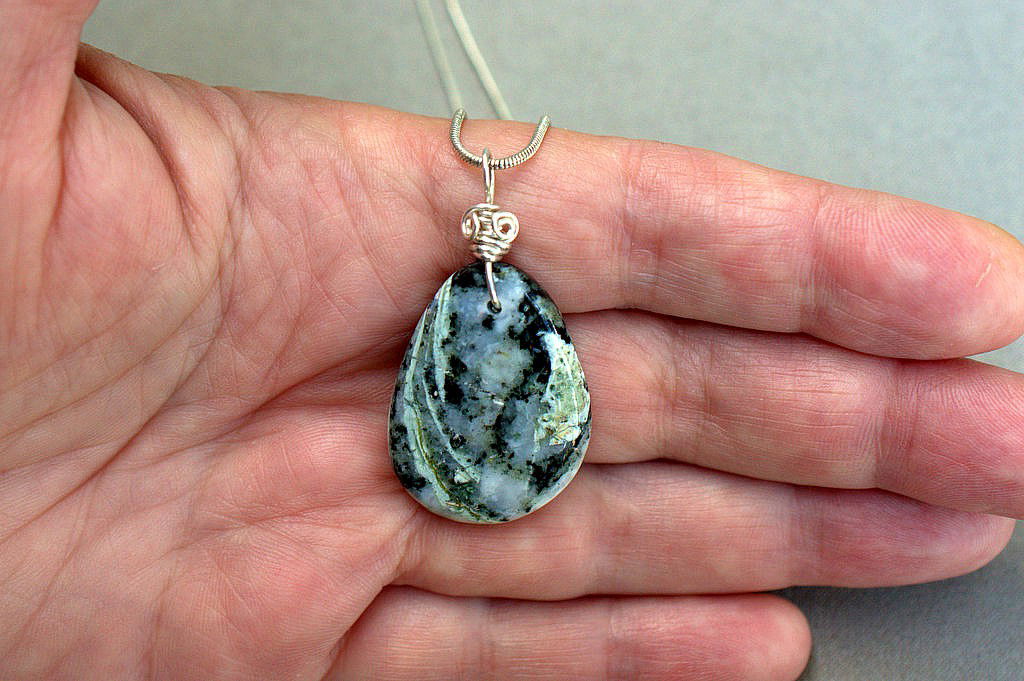 Unique mineral, Dallasite Jasper, handmade jewelry