A nice large size vivid color gemstone from Mexico. Crazy lace agate is a happy looking stone, sometimes called as the laughter stone. The twisting and turning bands makes it look like something not serious. But on the flip side, you can wonder, how nature can produce a beautiful specimen. Agate can be found all over the world, different colors, banding, formed in volcanic lava pockets where gases escaped, and filled with silicon dioxide,
The banding and stripes, occurred by different minerals, what mixed with Chalcedony. In this stone you can even see the direction of the flow. Crazy lace not only a good-looking jewelry piece, it has many metaphysical, and spiritual meanings, its properties mostly to eliminate thing what we fear of. Spiders, ghosts, and places what haunted, and everything what has negative vibes. not considered as a typical healing stone, but its energy useful to gain self-acceptance, and confidence.
The raw stone is direct from a Mexican collector, it was a nice large nearly an 8 lb piece. After the slabbing only a small part qualified as jewelry material. Selected by consistency stability and of course for the pattern. This pendant is cut to a nice long free form shape, with a liitle druzy window in it. Polished on lapidary diamond wheels up to 50.000 grit smoothness and shine. Set with sterling silver 21 gauge square and half round jewelry wire wrapping, a modern style method, what allow the stone's entire size visible, yet holds it firmly and secure in place. A silver plated 20" x 1.5 mm snake chain necklace included with the purchase of the pendant.
stone size: 47.4 x 23.3 x 8.7 mm 67.55 ct.
A one time shipping charge added at checkout. To Canada $4.40 USA $6.25 Rest of the world $20.35
We have a large collection of jewelry quality raw crystals and minerals, ready to cut to pendants. If you look for a specific gemstone, contact us we might have your stone.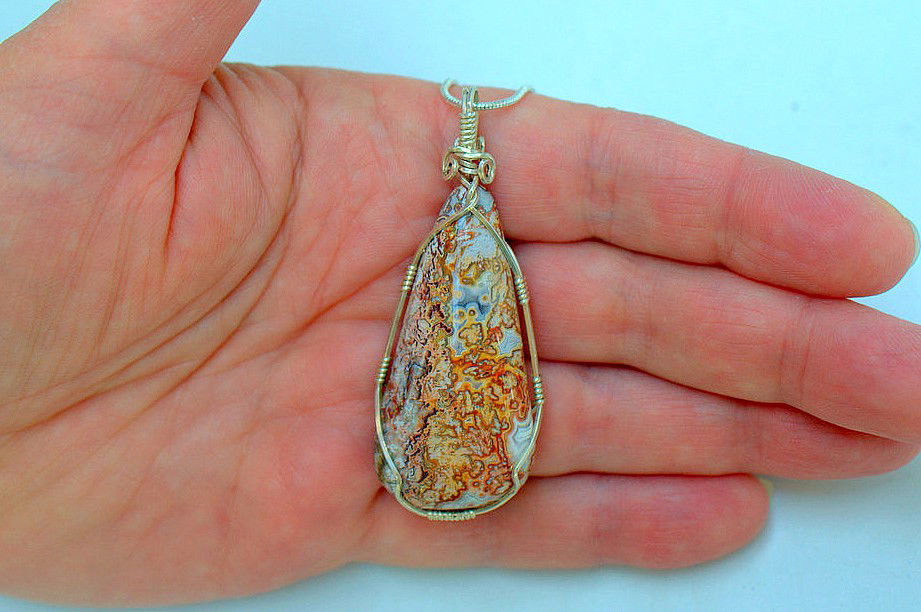 Vivid color gemstone, Crazy lace agate necklace