Many ancient cultures used white agate stone with different meanings. The one thing what is in common with all, white is a color that represent pureness, and all meanings associated with positivity. White stone is always brings something what's new, or needs to be renewed, a way out of the bad, or awakening from disturbing dreams. The stone of wish and hope.
Agate found all over the world, in many colors and very attractive patterns. One of the most favored gemstone for lapidary. This specimen found locally near Hope in British Columbia Canada. Selected for quality and designed to show the nicest pattern, cut to a teardrop shape. Polished on lapidary diamond wheels up to 50.000 grit smoothness and shine. This silver wire wrapped pendant is 100% natural, no additives or chemicals used during the process. The setting 21 gauge round and half round sterling silver jewelry wire, and it's with a silver plated 20" x 1.5 mm snake chain necklace.
stone size: 37.3 x 25.2 x 8.8 mm 53.45 ct.
Raw white agate stone still available for custom shape and size cutting, however the pattern can't be guaranteed to be the same, no two stones looks the same.
We also have a large collection of jewelry quality crystals and minerals, ready to cut to pendants. If you looking for a specific gemstone, drop us a line we might have your stone.
A one time shipping charge added at checkout. To Canada $4.40 USA $6.25 Rest of the world $20.35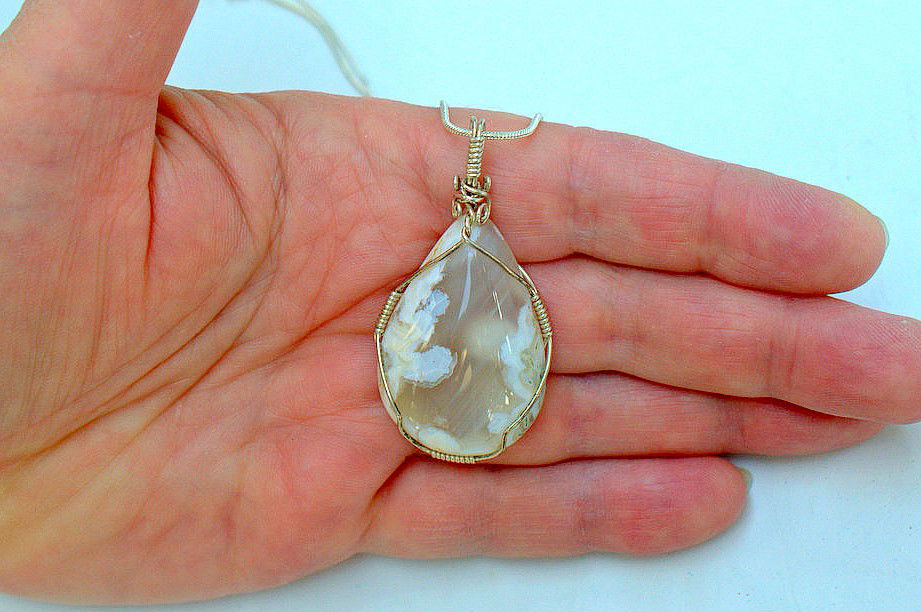 White agate stone, silver wire wrapped pendant