This transparent yellow quartz crystal, because of its bright color named after the fruit lemon, by the French translation of citron. Quartz is the most abundant mineral on earth's surface, composed by one part of silicon and two parts of oxygen.Quartz crystals has an amazing ability, that vibrate to very precise frequencies. One of the most used crystal for making radio transmitting and timekeeping devices. As for jewelry making, varies by color inclusion, purple quartz is Amethyst, dark brownish is smoky, and just like this one yellow is a Citrine.
It said Citrine carries the power of the sun, the center of the universe. Attracts wealth and prosperity, encourages generosity and the sharing of good fortune. In personal relationships help to realize the source of problems, and promotes the solution to understanding. It's a good stone when stating a new relationship to open the mine and accept the joy of life. Also an excellent gift idea for those who suffers of depression.
This pendant is a nice decent size natural gemstone, cut to a designed free form shape, polished all around. Drilled with 1 mm hole and set with a silver plated ice pick bail, and with an also silver plated 20" x 1.5 mm snake chain necklace. The setting is optional, I can change it for silver leaf style bail and for .925 sterling silver Italian made smooth 18", 20", 24" x 1.05 mm snake chain necklace. Please inquire about price difference.
stone size: 32.5 x 23.7 x 8.1 mm 41.30 ct.
Custom shape and size cutting also available, however the clarity of each cut varies, and cannot be guaranteed.
We have a large collection of natural jewelry quality crystals and minerals available for custom cut pendants. If you looking for a specific stone, please drop us a line, we might have your stone.
Free fast shipping to Canada and USA. International shipping available, please check estimated rates at top right highlighted menu button. A cost effective alternate shipping method might be available with ASENDIA, please contact us with destination, not all countries are supported.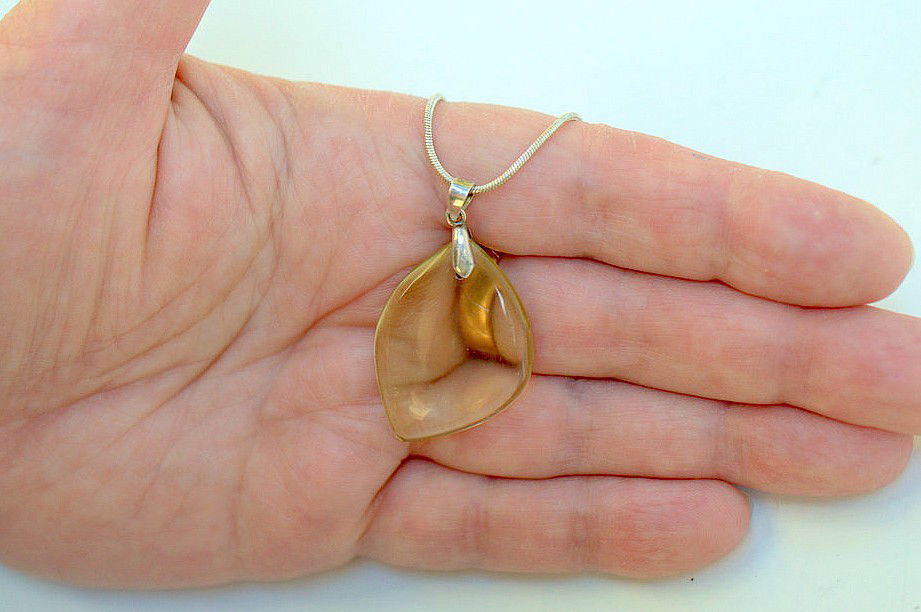 Yellow quartz crystal Citrine necklace